Lieberman More Popular With GOP Voters Than Dems, Poll Says; Lautenberg Says Lieberman May Abandon Independent Bid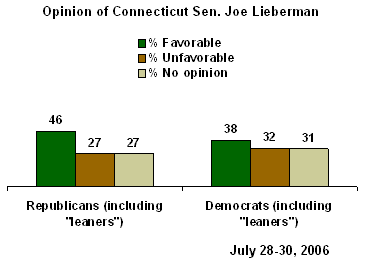 Joe Lieberman, the embattled Democratic Senator from Connecticut, is polling more popular with the state's Republican voters than with Democrats.
The results come from the latest
USA Today/Gallup poll
, which also shows Lieberman's image has been diminished among Democrats nationally as well as in Connecticut.
Meanwhile, the
Washington Post
is reporting today that Lieberman has decided to abandon major spending on a get-out-the-vote effort and go with TV ads instead, to build his image for an independent run should he lose Tuesday's primary to challenger Ned Lamont whom he now trails by 13 points.
LAUTENBERG SAYS LIEBERMAN COULD ABANDON INDEPENDENT BID


Lieberman has said he'll run as an independent if he loses Tuesday, but his collegue in the Senate, Democrat Frank Lautenberg of New Jersey, is quoted on USA Today's political blog
On Deadline
as saying he just doesn't see Lieberman going through with that plan if he loses the primary by 10 points or more.